Talks on Asian Languages: The Korean-Foreign Language Parallel Corpus
Date: 4 Sep 2023 | 10:00 AM - 12:00 PM
Venue: Palma Hall Rm. 428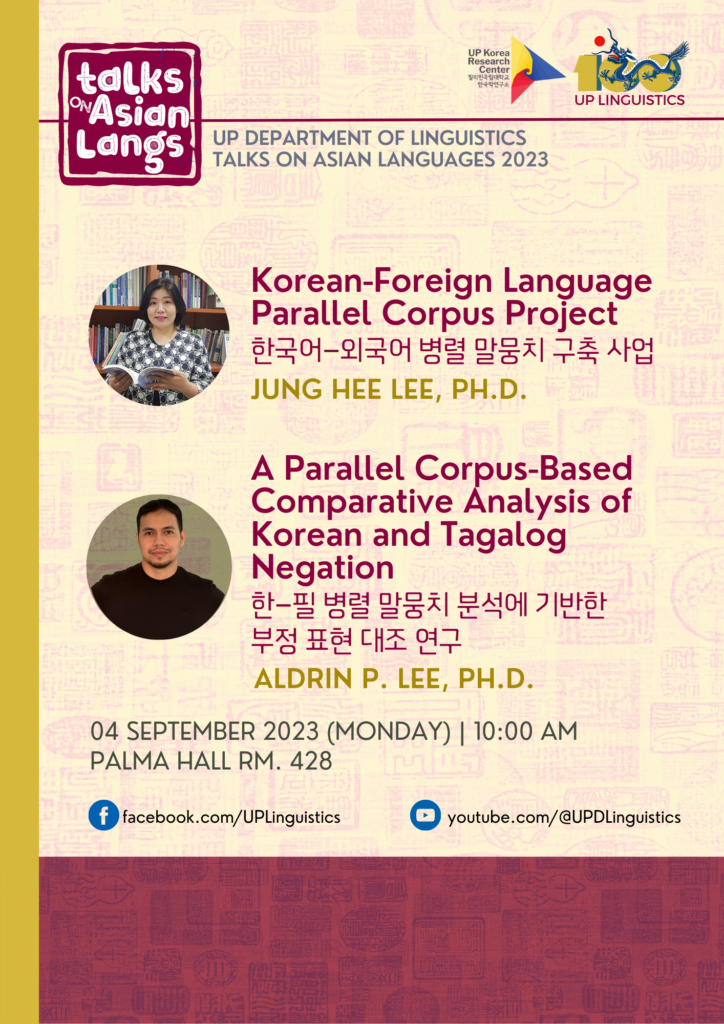 The Talks on Asian Languages (TAL) Series serves as an avenue for the faculty members, alumni, and affiliates of the UP Department of Linguistics to share their research about second language learning and acquisition, as well as studies on comparative structural features of Asian languages. Each lecture focuses on how linguistics and pedagogical trends can be employed and adapted to fit the learning needs of Filipino students. Other practical applications of linguistic studies on Asian languages, such as in translation, interpretation, learning materials development, and language planning, may also be covered in these lectures.
For this installment of TAL, we have two speakers from the ongoing Korean-Foreign Language Parallel Corpus Project:
Dr. Jung Hee Lee of Kyunghee University in Seoul will introduce objectives, potential, and the processes involved in building the Korean-Foreign Language Parallel Corpus.
Dr. Aldrin Lee will be talking about the findings of his study where he used the parallel corpus to compare negative constructions in Korean and Filipino
Date: September 4, 2023 (Monday)
Time: 10:00 AM
Venue: Palma Hall Rm. 428
This event is co-organized by the UP Department of Linguistics and the UP Korea Research Center.