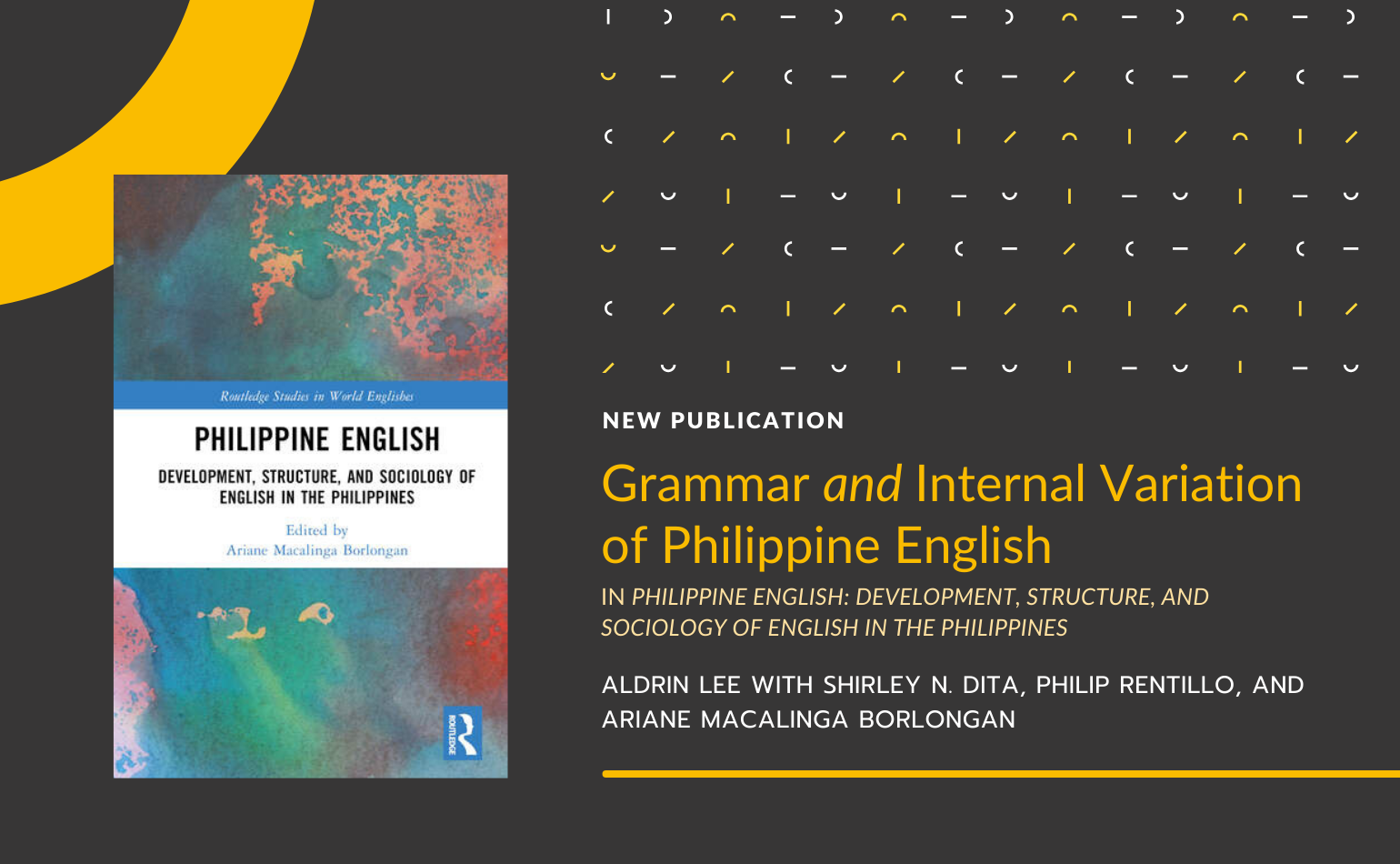 Assoc. Prof. Aldrin Lee contributed to two chapters in the recently published book "Philippine English: Development, Structure, and Sociology of English in the Philippines," which was edited by Dr. Ariane Macalinga Borlongan (Tokyo University of Foreign Studies) and published by Routledge.
Below is the abstract describing the chapter on the grammar of Philippine English, which Prof. Lee co-wrote with Dr. Shirley Dita (De La Salle University Manila) and Philip Rentillo (De La Salle University Manila).
Grammar
Since the turn of the century, much of research on the grammar of Philippine English (PhE) has shifted from broad descriptions of limited spoken and written data to more quantitative approaches using voluminous corpora. Decades of theoretical and methodological developments have prompted greater scholarly vigilance on the current grammatical identity of PhE and its evolution. To provide a general description on the current grammatical features of PhE, this chapter discusses the most recent studies that have explored the area over the past 20 years. Among the most notable studies on PhE tense and aspect are those by Gonzalez and Bautista who provided broad descriptions of the tense-aspect system based on internal features. Schneider was the first to explore modality in PhE with the hypothesis that certain types and uses of particle verbs predominate within specific contexts. Although non-inherently part of English, enclitic particles as widely used in spoken English among Filipinos was hypothesized to be prevalent in PhE.
Prof. Lee also co-wrote the chapter on the internal variation that can be observed in Philippine English varieties with Dr. Borlongan.
Internal Variation
The fifth and final phase in the evolution of postcolonial Englishes is, according to Schneider, characterized by differentiation both sociolinguistically and linguistically which ultimately results in internal variation. Schneider himself notes that variation exists even in earlier phases. Internal variation may surface in many dimensions: First and foremost, language varies with reference to register and genre. Works on PhE phonology have often distinguished features across the lectal continuum. The hallmark of sociolinguistic theorizing is the ascertaining that variation is structured, otherwise what Weinreirch, Labov, and Herzog refer to as 'orderly heterogeneity'. This chapter determines the systematicity of variation in PhE, most especially stylistic, regional, and sociolectal variation.
The book is now available for purchase. More information can be found here.
Published by UP Department of Linguistics