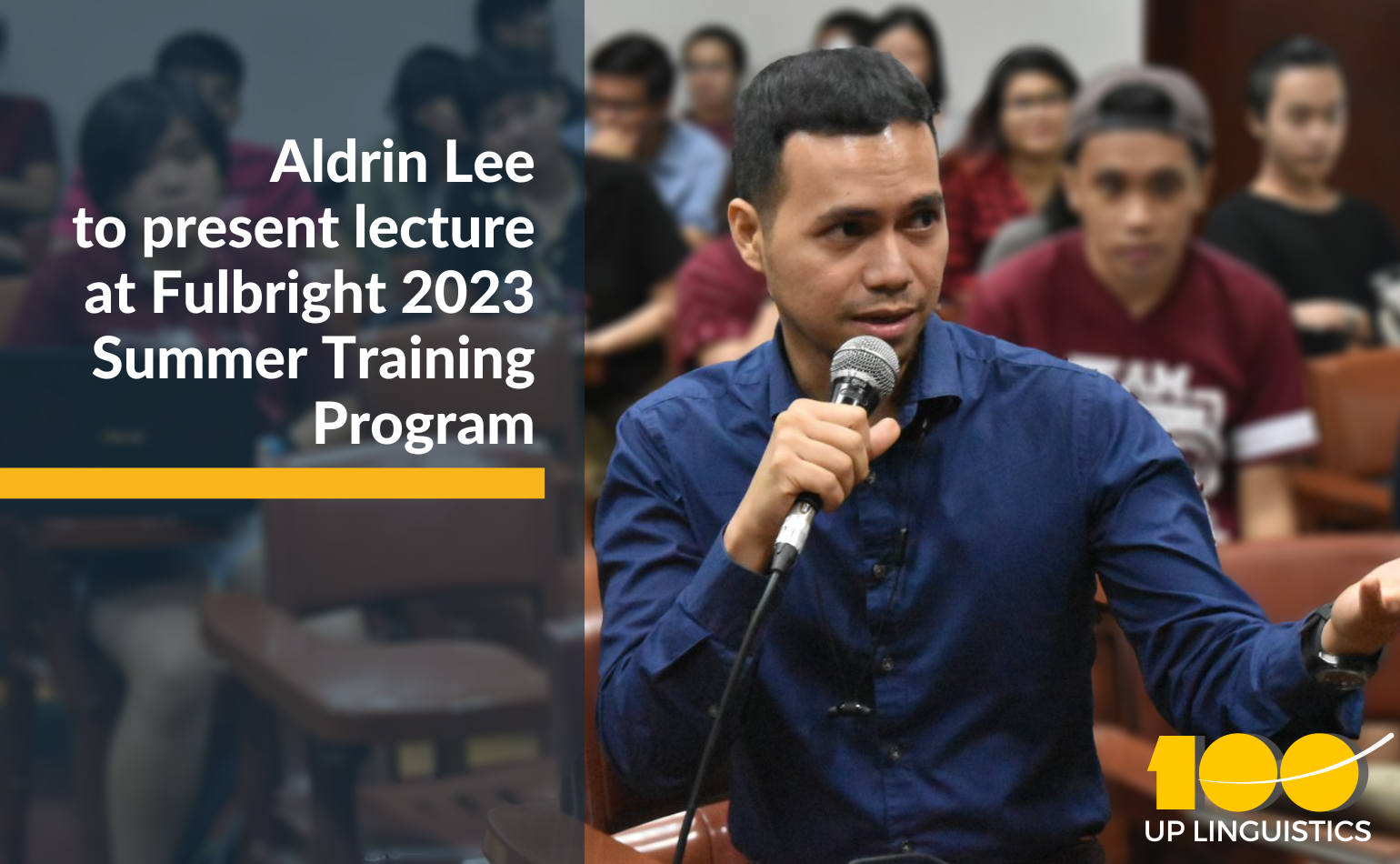 Associate Professor Aldrin Lee will be delivering a lecture titled "Language Landscape of the Contemporary Philippines: Multilingualism, Linguicism, and Language Shift" at the Fulbright 2023 Summer Training organized by the University of Hawai'i at Mānoa Center for Philippine Studies and the Fulbright-Hays Group. This year's summer training program has the theme "Dunong at Kalinangan: Filipino Language and Indigenous Cultural Heritage." It will be held at the De La Salle University, Dasmariñas, Cavite Campus, from June 5 to July 10, 2023.
Below is the abstract of Dr. Lee's lecture.
Language Landscape of the Contemporary Philippines: Multilingualism, Linguicism, and Language Shift
The Philippines is home to 184 living established languages and 175 of these are indigenous (Eberhard, Simons & Fennig, 2023). It is listed in the top twenty countries in the world that are considered as "language giants" (Nettle & Romaine, 2000). However, such linguistic diversity in the Philippines is currently threatened as the archipelago faces a difficult challenge that is similarly experienced by other linguistically diverse areas around the world— an alarming number of languages are either dying or are highly in trouble. According to the latest assessment by the Ethnologue (Eberhard, Simons & Fennig, 2023), 11 languages in the Philippines are currently dying while another 37 are in trouble. And considering the narratives gathered from the field, more languages will also soon fall into these categories unless significant interventions will be put in place.
In my talk, I will discuss the general language situation in the Philippines focusing on three interconnected phenomena that characterize the present-day status of Philippine languages— multilingualism, linguicism, and language shift. Multilingualism is an essential feature of the language landscape of the Philippines and is very well reflected in the typical linguistic repertoire of many Filipinos. However, some key events in the early 20th century Philippines propelled linguicism (Skutnabb-Kangas & Phillipson, 2017) in the country, severely endangering ethnolinguistic diversity. In particular, the institution of a single national language and the continuing dominance of English undermine the Filipinos' faith in the validity of local languages as potential media for education and broader intellectual development (Smolicz & Secombe, 2000) and encourage "subtractive" learning situations which ultimately lead to irreversible language shift.
I will be using the most recent country report of the Ethnologue for the Philippines as the main source for the vitality status of Philippine languages. I will also be utilizing data gathered through linguistic fieldwork in different areas of the country to corroborate the account provided by current vitality assessments available for the languages in the Philippines.
To find out more about this event, please visit this link.
Published by UP Department of Linguistics