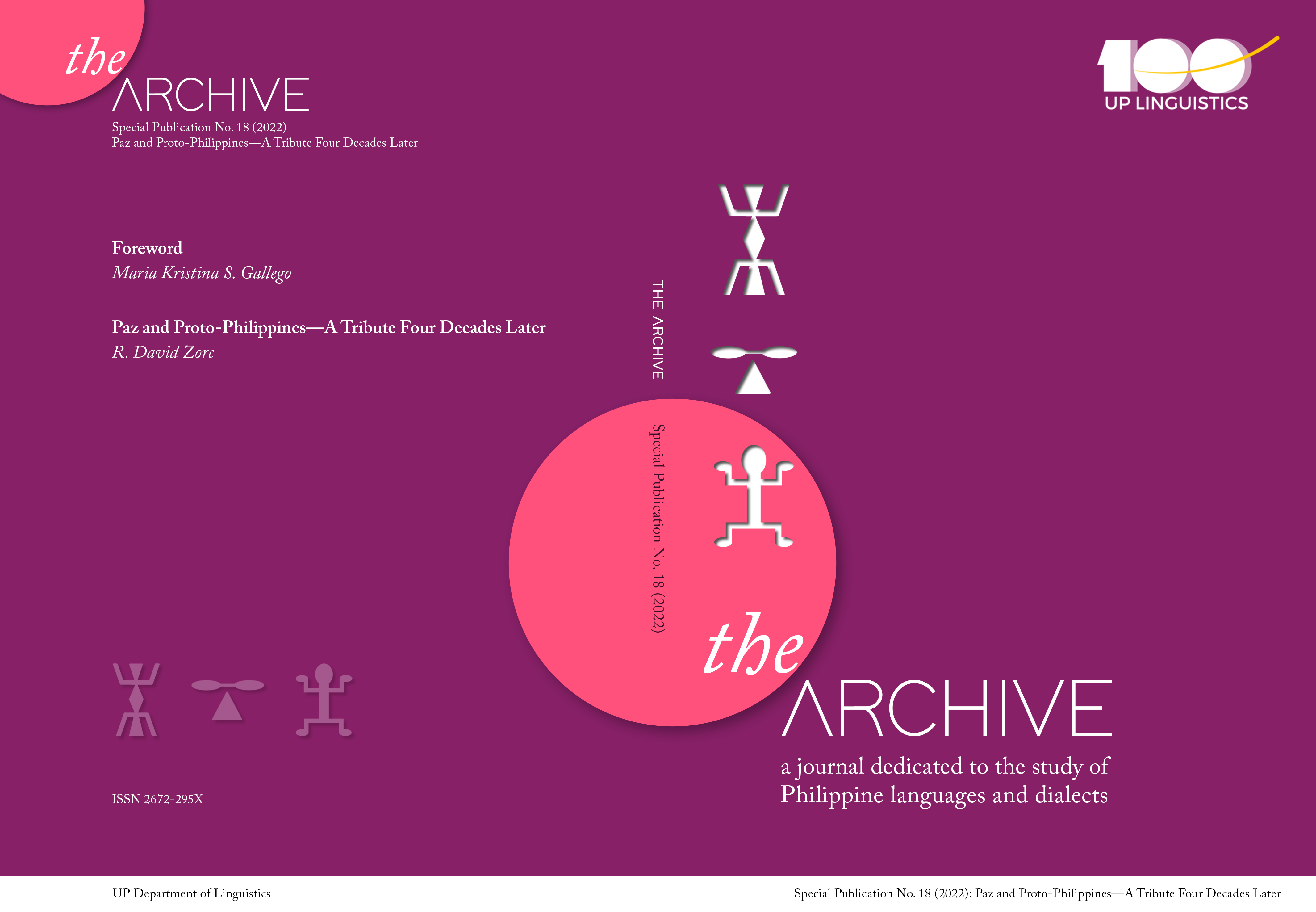 The Department's official publication, The Archive journal, recently released Special Publication No. 18 featuring the work of Dr. R. David Paul Zorc, a renowned expert in Philippine comparative-historical linguistics. The volume is dedicated to the late Dr. Consuelo J. Paz and was launched on the week of her 90th birth anniversary. It is also published in celebration of the centennial anniversary of the UP Department of Linguistics.
Zorc's article, titled "Paz and Proto-Philippines—A Tribute Four Decades Later; In Honor of the Centennial Anniversary of the UP Department of Linguistics," is a reappraisal of Paz's monumental 1981 dissertation titled "A Reconstruction of Proto-Philippine Phonemes and Morphemes," a project which Zorc finds to be filled with insights, courage, and ingenuity. In addition to the reassessment of Paz's reconstruction of the forms belonging to the putative ancestral language called Proto-Philippine (PPH), Zorc provides important notes on doing etymological studies particularly on PPH, such as the reconstruction of its phonemes and accent, unique unconditioned changes that, he notes, need not be accounted for and are probably the peculiarity of a given language, and monosyllabic roots. This latest publication of Zorc with The Archive features an extensive 740-etyma table of etymologies containing Paz's reconstructed forms with annotations.
Dr. Maria Kristina S. Gallego, Chair of the Department and a historical linguist, wrote the foreword for this issue. She describes Paz as "…a linguist whose works not only contributed to establishing a stronger foundation for Philippine linguistics, but also became instrumental in the advancement of Filipino as the National Language of the country." Gallego also shares her academic journey in the field of historical linguistics and how Paz, through her works, became influential in her research, particularly on phonological reconstruction. She also recalls how Paz utilized her field experience as her foundation on which she conducted her research, and how she promoted field work as an important tool in understanding the language and culture of the community under study. She commends Zorc for revisiting Paz's work and highlighting its merits, in the hopes of getting renewed appreciation for Paz's milestone research and how her work "…was able to contribute to questions and debates that continue to plague Philippine historical linguistics."
The publication of the issue was administered by Asst. Prof. Jem R. Javier (editor-in-chief), Asst. Prof. Divine Angeli P. Endriga (managing editor), and James Dominic R. Manrique (copyeditor, layout, and cover designer), with the administrative assistance of Ms. Victoria N. Vidal. The special publication may be accessed via this link.
---
The Archive was originally published in the 1920s by Otto Johns Scheerer as a repository for working papers of the Department's graduate students. It now publishes research outputs in three different categories: the Regular Issue, which is the peer-reviewed publication for original works dealing primarily but not exclusively with Philippine languages and dialects; the Special Publication, which is a venue for publishing single, extensive works on Philippine languages, translations, and other similar works; and the Classics series, which reprints monumental works in Philippine linguistics that paved the way for further research in the field and continue to influence current studies on Philippine languages.

The Archive accepts submissions all year round. It is officially hosted by the UP Diliman Office of the Vice-Chancellor for Research and Development, through the UP Diliman Journals Online website, where previous and current issues of the journal may be freely accessed and downloaded. More information about the journal and submission guidelines are available through this link.
Published by UP Department of Linguistics