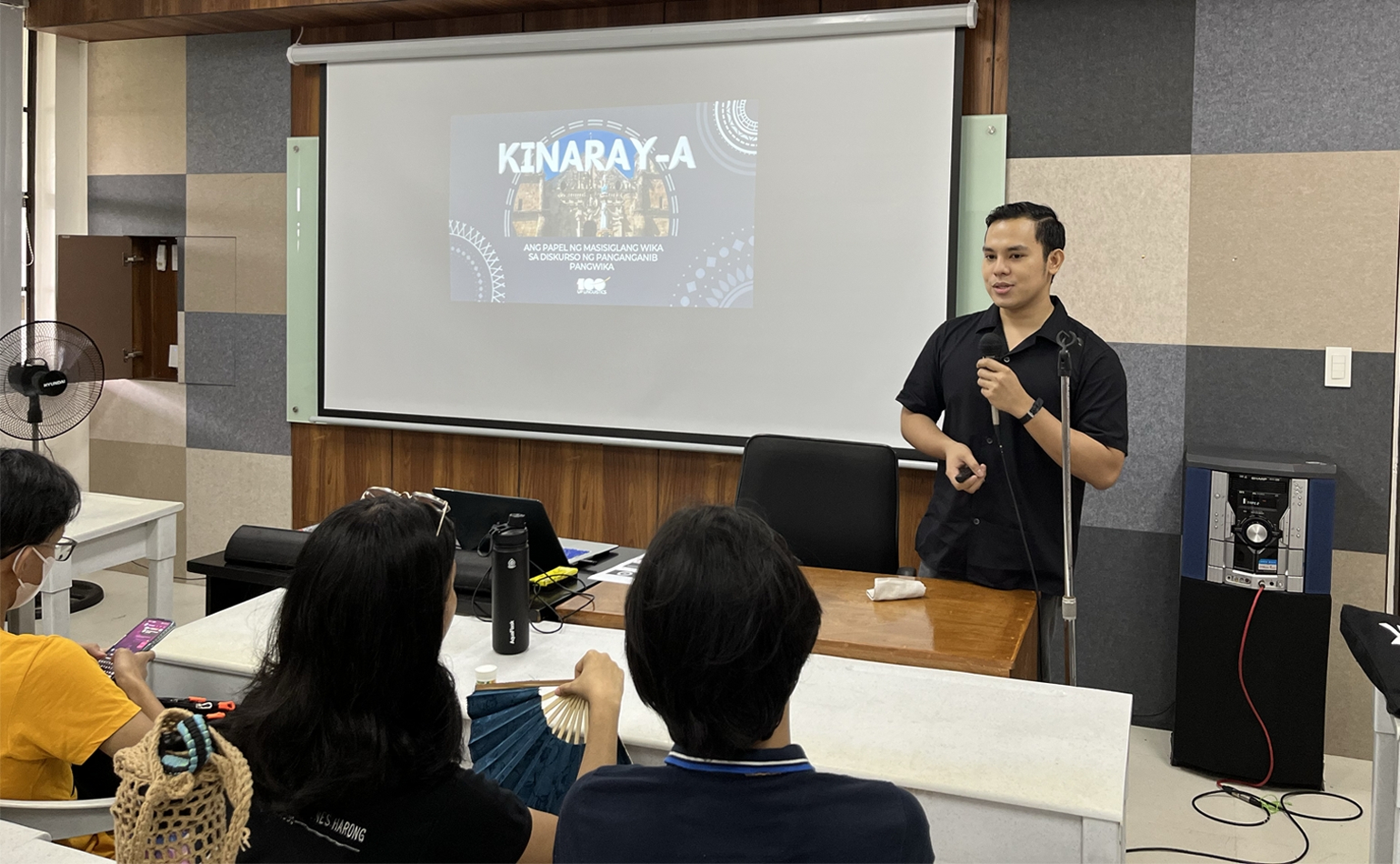 "Ang problema nga lang, sa paghubog ng usapin sa panganganib pangwika, parang may naglalaban, laging nagtutunggalian, at na-re-reduce ang diskurso sa tunggalian na ito sa labanan ng dalawang wika [The problem is, in shaping discussions on language endangerment, it seems as if there are forces that are pitted against each other, always in a struggle, and the discourse is reduced to this fight between two languages]," Noah Cruz, instructor and MA Ling candidate at the Department, explained as he discussed the issue of language endangerment in the Philippines and how studying vigorous languages can help us better understand how languages become endangered and what it might take to maintain or revitalize languages. His talk titled "Ang Papel ng Masisiglang Wika sa Diskurso ng Panganganib Pangwika" was presented as the eighth installment of the 2023 Philippine Indigenous Languages Lecture Series (PILLS) last 29 September at Palma Hall Room 428.
In his talk, Cruz presented a different perspective on language endangerment: that it should not be reduced to a struggle between a lesser-known indigenous language and a lingua franca that is seen to be more prestigious and more powerful. Cruz called on the audience to consider various factors, which may be unique to a locale at a certain period of time, to add more nuance to the discussions on language endangerment and better understand conditions that could lead to language endangerment or their maintenance. These factors often differ according to the contexts that may be found in different locales and the ideologies held by members of an ethnolinguistic community.
Cruz used the case of the Kinaray-a variety spoken in Miag-ao, Iloilo to answer three questions related to the issue of language endangerment: (1) if members of an ethnolinguistic group speak other languages aside from their native tongue, is their native tongue automatically endangered?; (2) do vigorous languages cause the endangerment of "smaller" languages?; and (3) is there a direct relation between the number and quality of documentation and the vitality of a language?
Based on the fieldwork survey that Cruz conducted in Miag-ao, he found that Kinaray-a speakers in the municipality also commonly use Hiligaynon, Tagalog, English and other languages in different domains, while continuing to maintain the use of their native tongue. Kinaray-a is maintained in the community despite its lack of presence in more formal institutions within the community as the language has been observed to be used among family members and peers as well as and some public spaces such as public markets and transportation terminals.
He also noted that, "mahalaga ang dokumentasyon at deskripsyon ng wika upang maipreserba ang kaalaman ng mga nagsasalita nito, pero hindi nila tuwirang naaapektuhan ang sigla ng isang wika [The documentation and description of a language is important as it preserves the knowledge of its speakers, but these do not directly affect the vitality of a given language]." Kinaray-a, although widely spoken, is the subject of only a few publications. It is also not used in the Mother Tongue-Based Multilingual Education (MTB-MLE) program, nor as a language of instruction in tertiary education.
Cruz ended his presentation with a reflection on the different markers of language vitality and emphasized that language endangerment results from multiple interwoven factors. He added, "Walang isang salik na makakapagtukoy kung saan papunta ang isang wika. Hindi lang natin ito napapansin [There's not one factor that could determine where a language will go. We just don't notice it.]."
The talk was followed by an open forum, which covered language attitudes, linguistic domains, community-specific factors, field methods and sociolinguistic prestige. Cruz's presentation is part of his ongoing research for his MA thesis.
The next installment of PILLS will be held next month. Stay tuned to the Department's social media pages for more lectures and events.
Published by UP Department of Linguistics