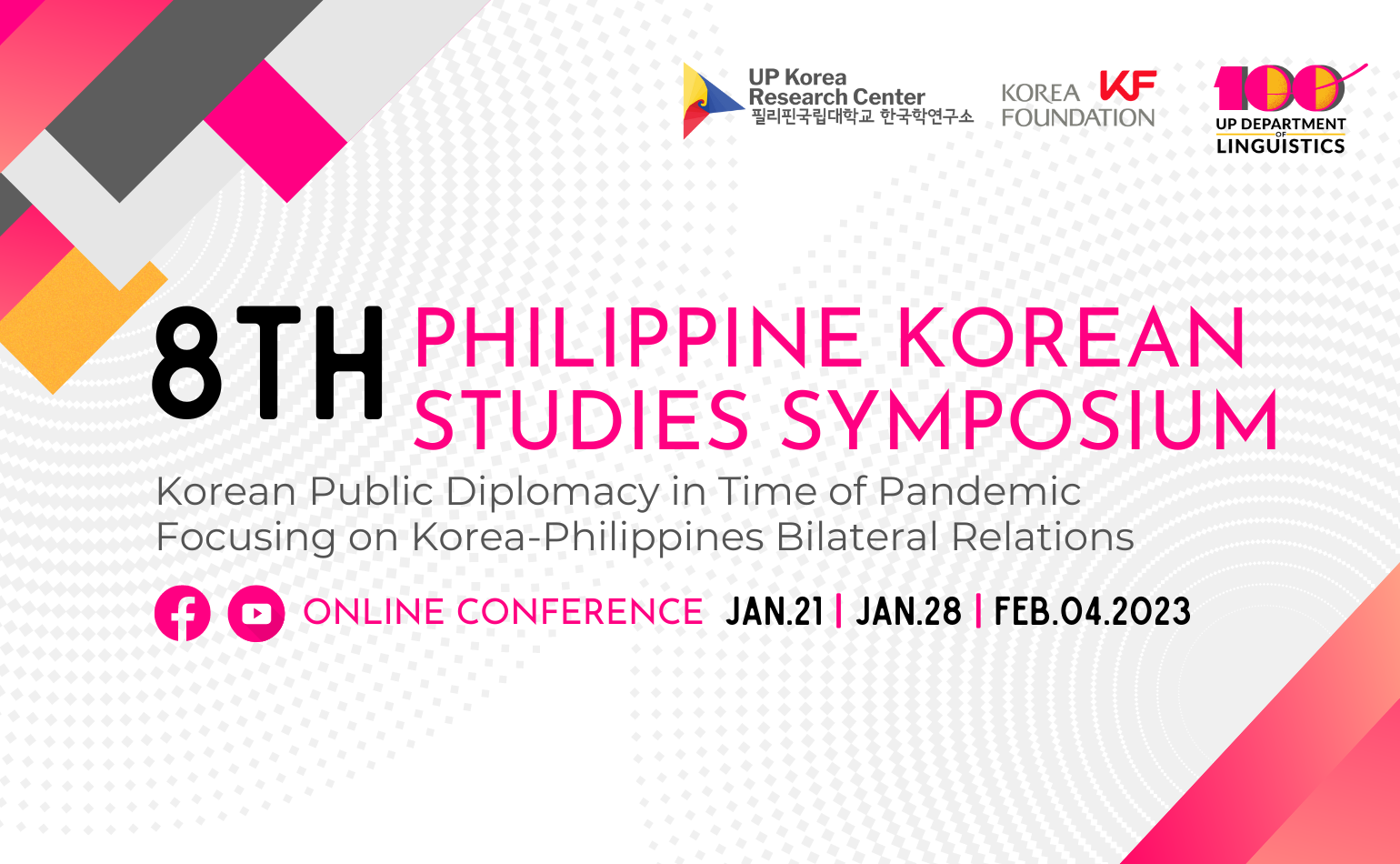 The Department will once again co-host the Philippine Korean Studies Symposium (PKSS) together with the UP Korea Research Center (UP KRC). The conference, which is now on its eighth year, will be held online on January 21, 28 and February 04. The PKSS aims to promote Korean language education and Korean studies in the Philippines. It also aims to raise interest among Filipino scholars regarding Korea-related topics in order to promote cross-cultural understanding and cooperation.
The theme for this year's PKSS is "Korean Public Diplomacy in Time of Pandemic: Focusing on Korea-Philippines Bilateral Relations." Two keynote speakers have been invited to present at the online conference.
Dr. Changkeun Lee, an associate professor at the Korea Development Institute, School of Public Policy and Management, will be delivering the keynote lecture titled "Rise of K-Culture: History and Economics" on the first day of the conference. In this talk, he will attempt to answer the question of how Korea became a global player in the cultural industry by delving into economic factors that have played a huge role in the steady rise of the popularity of Korean culture in the global arena. Mr. Ranel Ram Cheng of the National Economic Development Authority will serve as the discussant on this topic.
Dr. Jaechun Kim, a professor of international relations at Sogang University's Graduate School of International Studies, will be delivering the keynote lecture on the second day of the 8PKSS. His lecture, titled "The Future of International Order and US-China Competition," will discuss how competition between the US and China is shaping the global order and how it might affect globalization. UP Asia Center's Associate Professor Michelle Palumbarit will serve as the discussant on this keynote lecture.
Researchers of UP KRC's 2022 Core Research Projects will also present the findings from their respective studies at the conference.
Inst. Michael Manahan will be co-presenting with Mr. Jovito Jose Katigbak (Far Eastern University) and Mr. Seksan Anantasirikiat (Korean Association of Thai Studies) a paper titled "Advancing Public Diplomacy amid Digitalization: Comparing Social Media Communication Patterns of Select Philippine and South Korean Agencies."
Assistant Professorial Fellow Kyung Min Bae will also be presenting two co-authored studies: "You are cool pala!: Politicised Filipino K-pop Fan Culture and Fandom Identity Construction" with Ms. Jasmine Romabaoa (Ateneo de Manila University), and "A Semiotics of Demarcation in Manila's Koreatown" with Dr. Julius Martinez (Niigata University of International and Information Studies).
A fourth UP KRC Core Research Project is titled "Developing the Philippines' Cultural Policies: Benchmarking the Korean Success in Building Sustainable Cultural Industry" and its principal investigators are Mr. Mark Ysla and Ms. Marian Gongora (Far Eastern University).
Several of the Department's undergraduate and graduate students will also be presenting their working papers at the conference.
MA Ling student James Dominic Manrique will be sharing his study "Error Analysis of Written Compositions by Filipino KFL Learners," which was published in the first volume of the UP Working Papers in Linguistics.
BA Ling alum Juliane Margaret Tamina will be sharing her cultural immersion experience at Jeju, South Korea in a presentation titled "Developing Cross-Cultural Values: An Immersive Experience in Jeju."
Two groups of students from the Department's very first Linguistics of Subtitling course, handled by Inst. Michael Manahan, will also present their papers on the second day of conference. Both papers will tackle translation issues in the subtitles of the Korean series "Extraordinary Attorney Woo." Among the student presenters are BA Ling majors Keane Abesamis, Darla Lorraine Abrera, Hazel Anne Cipriano, Samantha Policarpio, Kenzo Grey Salao, Laetizia Francisco, Jeri May Garcia, Trisha Nicole Magtibay, Bethania Marie Masangkay and Allerah Quinto.
A workshop for Korean-as-a-foreign-language educators will be conducted on the third day of 8PKSS via Zoom. Among the workshop facilitators are two of the Department's Korean language lecturers, Maria Concepcion Loren Chua and Marco Angulo, as well as MA Ling student Sarah Eve Perlawan. Other invited workshop facilitators are practicing KFL educators as well as a representative from the private industry sector.
All the lectures and research presentations on the first and second day of 8PKSS will be live-streamed on the Facebook page and YouTube channel of UP KRC. Videos will also be uploaded on the Department's YouTube channel.
Registration is required for the KFL Educators Workshop which will be held on 04 February. Details will be posted on the UPKRC Facebook page.
Below is the complete conference schedule for the 8PKSS:
See you at the 8PKSS!
Published by UP Department of Linguistics