PLC Digital Repository
This page serves as a digital repository for the conference proceedings, books of abstracts, and other resource materials generated from previous installments of the Philippine Linguistics Congress (PLC). In line with objectives of the PLC when it was first established in 1978 by then Chair Dr. Jonathan C. Malicsi, the PLC Digital Repository hopes to represent an ever-growing body of knowledge that chronicles how the study of Philippine languages has advanced through the years based on the research outputs read and discussed at the PLC by scholars of Philippine linguistics from different parts of the world.
This repository will be permanently stored in this site, where all the uploaded files are open access, to be used for free as reference materials for students, educators, researchers, and other enthusiasts of Philippine linguistics, language studies, and related disciplines. Please note, however, that a number of papers presented have already been updated, revised, and published in other academic platforms, so make sure that you get the most recent version of the paper. The copyright of each of the full papers remains with the respective authors. Please see the copyright clause below for more information. For inquiries, please send us an email at linguistics.upd@up.edu.ph.
Copyright Notice
The copyright of all articles published in the PLC conference proceedings remains with the authors, i.e. authors retain full ownership of their article. The views reflected by the authors in the conference proceedings do not necessarily reflect the views of the publisher, editors, and conveners.
Access to the papers uploaded is free on the condition that proper attribution is given.
Recommended entry:

Author. (Date). "Title of Paper". Paper presented at the [nth] Philippine Linguistics Congress. Quezon City: University of the Philippines Department of Linguistics. Accessed [Date] at the UP Department of Linguistics website: [link].
For more information, please refer to the Acceptable Use Policy of the University of the Philippines.
1st Philippine Linguistics Congress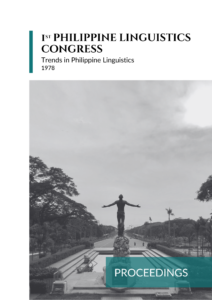 Date: 29 May to 02 June 1978
Convener: Jonathan Malicsi
Theme: Trends in Philippine Linguistics
List of Papers in the Proceedings
Ang Historikal na Pag-aaral ng mga Wika sa Pilipinas
Consuelo J. Paz
Sikolinggwistikang Pilipino: Pananaw at Tunguhin
Virgilio Enriquez
Some Unpopular Analyses of Sentences as and Constructions With Missing Constituents
Ernesto H. Cubar
A Bibliography and Brief Review of Work Done on the Grammars of Philippine Languages
Fe T. Otanes
Beyond Linguistics: A Humanistic Approach to Language Teaching
Nelia G. Casambre
Ethnolinguistics Concerns in the Philippines
Jonathan Malicsi
Where is Sociolinguistics Now in the Philippines and What is Its Direction
Emy M. Pascasio
Ang Lingguistikang Pilipino: Kasaysayan, Kalagayan at Patutunguhan
Emilita Cruz, Leith Casel, and Anicia del Corro
2nd Philippine Linguistics Congress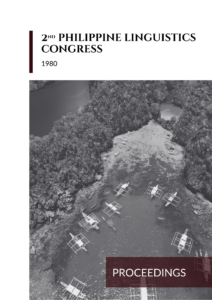 Date: 02-06 June 1980
Convener: Ernesto H. Cubar
List of Papers in the Proceedings
Ang Filipino at mga Wikang Katutubo sa Palawan
Erlinda D. San Juan
The Role of Linguistics in Second Language Teaching Methodology
Rosario E. Maminta
Rebyu ng Pag-aanalays ng Wika sa Pilipinas
Anicia del Corro
A Reaction Paper on the Speech of Dr. Ponciano B.P. Pineda, Director, Surian ng Wikang Pambansa
Pedro A. Guasa, Jr.
Pagpaplano ng Wika Ukol sa Pambansang Pagsulong
Ponciano B.P. Pineda
Pag-aanalaysa ng mga wika sa Pilipinas (abstract)
Ernesto Constantino
Language, Culture, and Personality
Prospero R. Covar
Ang mga wikang Filipino at ang Kaunlarang Pambansa
Greg Laconsay
3rd Philippine Linguistics Congress
Date: 31 May-02 June 1983
Convener: Ernesto Constantino
Theme: Studies on Philippine minor languages
List of Papers in the Proceedings
Philippine Minor Languages and Language Planning
Bonifacio P. Sibayan
Mga Unang Pag-aaral Tungkol sa Mga Maynor na Wika
Consuelo J. Paz
A Morphological Study of Itbayat Folktales
Yuichiro Yamada
Syntactic Functions of Yadasen Nouns
Jan Tan
A Preliminary Report on the Karao Language in Benguet
Tsunekazu Moriguchi
Subject Predicate and Focus Marking in Isinay
Ernesto Constantino
From Borrowed Noun to Verb: A Study of Functional Shift in Philippine Languages
Ernesto H. Cubar
Sambal Reflexes of Proto-Austronesian Phonemes
Evan L. Antworth
Minor Languages of Mindoro
Antoon Postma, SVD
Verb Aspect in Masbateno Discourse
Elmer Wolfenden
Talaandig or Bukidnon?
Pedro A. Guasa, Jr.
Higa-onon Phrase Structure
Purita B. Quidlat
4th Philippine Linguistics Congress
Convener: Consuelo J. Paz
List of Papers in the Proceedings
Currently unavailable
5th Philippine Linguistics Congress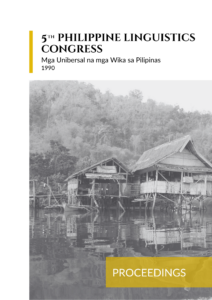 Date: 30 May to 01 June 1990
Convener: Consuelo J. Paz
Theme: Mga Unibersal na mga Wika sa Pilipinas
List of Papers in the Proceedings
A Search for Semantic Primitives
Jonathan Malicsi
Ang Gitnang Konsonant-Klaster na mey Glotal
Consuelo J. Paz
Ang Pagsasalin at Ilang Unibersal Tungkol Dito
Anicia del Corro
Gemein-Philippinisch or Ur-Philippinisch? Brandstetter Revisited on Universals
Andrew Gonzalez, FSC
Komparatibong Pag-aaral ng Pluralayser ng Nawn-Preys sa Tagalog, Sebuano, Bikol at Ilokano
Viveca V. Hernandez
Structural Comparison of Four Philippine Languages
Evangeline B. Canaman
The Number of Names of the Davao Languages
Luzviminda Cagas
6th Philippine Linguistics Congress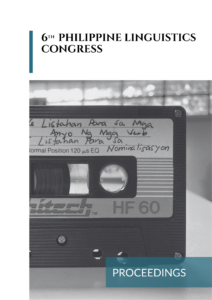 Convener: Irma U. Peneyra
List of Papers in the Proceedings
Currently unavailable
7th Philippine Linguistics Congress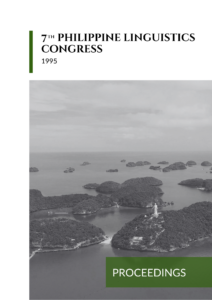 Date: 1995
Convener: Viveca V. Hernandez
List of Papers in the Proceedings
Linguistic Statistics: A Commentary
Jonathan Malicsi
Pangasinan Anaphors: A Preliminary Study
Nieves B. Epistola
8th Philippine Linguistics Congress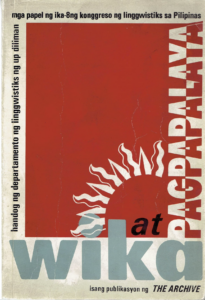 Date: 15-17 December 1997
Convener: Ricardo Ma. Nolasco
Theme: Wika at Pagpapalaya
List of Papers in the Proceedings
Pagsilang ng Wika: Kaso ng Filipino
Consuelo J. Paz
Ang Pagsasalin: Nakakapagpalaya nga Kaya?
Anicia del Corro
Ang Alfabet ng Wikang Filipino: Ilang Isyu
Maria Stella S. Valdez
Ang Broadcast Media at ang Wika
Cindy Muñoz-De Leon
Ang Linggwistiks ba ay Pag-aaral ng Wika?
Silvino S. Epistola
Linguistic Hegemony
Jonathan C. Malicsi
Salitang Bakla: Makapangyarihan? Mapagpalaya?
Eufracio Abaya at Jesus Federico Hernandez
The Role of Filipino, Sebuano and the Mindanao Languages in the Liberation and Unification of Mindanao
Luzviminda Cagas-dela Cruz
Mga Kalakaran sa Pagpaplanong Pangwika sa Edukasyon: Karanasan ng Singapore at Hong Kong
Lydia B. Liwanag
Si Bonifacio at ang Wikang Tagalog
Milagros C. Guerrero
Un Monumento A Mi Idioma: Ambag ni Rizal sa Pag-aaral sa mga Wika ng Pilipinas
Nilo S. Ocampo
Filipino ng Kilusang Pambansa-Demokratiko (KPD): Pilosopiya at Pulitika sa Pambansang Wika
Monico M. Atienza
Takot sa Babel: Ilang Panukalang Pagkilos para sa Filipino Bukas
Virgilio S. Almario
The Structure of Tagalog-English Code Switching
Ma. Lourdes S. Bautista
Ethnography of Speaking the Bikol Folk Song
Cynthia D. Nolasco
Ang Wika ng Literatura sa Darating na Dantaon
Isagani R. Cruz
Wika at Historiograpiya: Ang Pag-aaral ng Kasaysayan tungo sa Pagbubuo ng Bansa
Zeus A. Salazar
Wika, Kasarian at Sekwalidad
Lilia Quindoza-Santiago
Ang Programa ng Pagsasalin sa Wikang Hapon
Tomonobu Nagai
Ang Pagpapalaya ng Linggwistiks at Wikang Pambansa ng Pilipinas
Ernesto A. Constantino
9th Philippine Linguistics Congress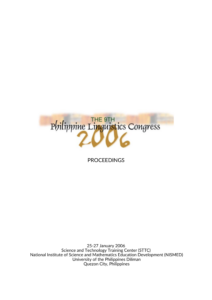 Date: 25-27 January 2006
Convener: Emilita L. Cruz
List of Papers in the Proceedings
Origins of the Filipinos and their Languages
Wilhelm Solheim II
What Intonation Units Can Tell Us about Cebuano Grammar
Michael Tanangkingsing
Surviving without Focus: The Case of Barra
Alden Jerome Caina Mamaril
Ang mga Hispanismo sa Filipino at ang Makabagong Filipino
Teresita A. Alcantara
Typological Classification of Borrowings in Tagalog
Ekaterina A. Baklanova
How to Give and Receive in Malay and Cebuano?
Nasirin Abdillah and Rodney C. Jubilado
"Interlinears: Lack of Equivalence"
Anicia Del Corro
Philippine Linguistics Studies in Russia
Natalia V. Zabolotnaya
Japanese Language Learning Support Systems
Osamu Sato
Notes on Cebuano-Bisayan Ethnic Identity in the Philippine Multilingualism
Yoshihiro Kobari
Key Findings for Language Planning from the National Sign Language Committee
(Status Report on the Use of Sign Language in the Philippines)
Julius Andrada and Raphael Domingo
Filipino Sign Language in Deaf Education: Deaf and Hearing Perspectives
Marie Therese A.P. Bustos and Rowella B. Tanjusay
Insights from Lexicalized Fingerspelled Signs in Filipino Sign Language
Maricriz S. Siloterio
Lessons from the History of Filipino Sign Language
Rafaelito M. Abat (Deaf)
Making Texts More Meaningful to the Deaf Reader for Deeper Levels of Information Processing and Language Instruction
Perpilili Vivienne A. Tiongson
10th Philippine Linguistics Congress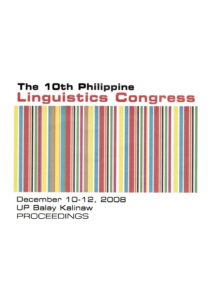 Date: 10-12 December 2008
Convener: Jesus Federico C. Hernandez
List of Papers in the Proceedings
Who does what to whom: Another Look at role relations in Philippine Languages
Lawrence Reid
Quo vadis Filipino?
Teresita A. Alcantara
Classroom interaction analysis of cognitive processes and strategies: Basis for prototype interactive lessons in organic chemistry
Wilfred B. Bambico
Monadic verbs in Malay and Cebuano languages
Rodney Jubilado and Nasirin bin Abdillah
The patterns of interaction of viewpoint and situation type aspect in Tagalog
Ma. Althea Enriquez
Nominal and adjectival sentences in MP: Evidence from Tagalog and Malay
Maria Khristina S. Manueli
Control constructions in Filipino
Aquiles P. Bazar III
Verbal co-indexing of non-nominatives in Southwestern Palawano
Bill Davis and Ricardo Nolasco
Visual literature and sign language linguistics
Perpilili Vivienne Tiongson and Liza B. Martinez
Ibanag nominal marking system
Shirley N. Dita
Motion in narratives: finding the way in Kavalan
Haowen Jiang
A pedagogic approach in Filipino lexicography
Peter Paul Sengson, et. al.
BV construction in Tsou and the coding of adjuncts NPs
Huei-ju Huang and Shuanfan Huang
An analysis of the code-mixing behaviors of interlocutors interacting with Filipino toddlers aged 2-4 years old
Arthea Quesada, et. al.
Dual language education program models in Philippine progressive schools
Ani Rosa Almario and Aleta R. Villanueva
Politicizing the second language classroom: Prospects for change
Noel Christian Moratilla
The impact of government policies on the indigenous languages of the Philippines
Manuel Lino Faelnar and Junica Soriano
Case-marking in the Waray-waray pronominal system
Alexandra N. Kaluag
The right to language—a call for sign language policy in the legal and judicial system
Golda S. Benjamin
The pronominal system of Binukid
Hazel Jean M. Abejuela
11th Philippine Linguistics Congress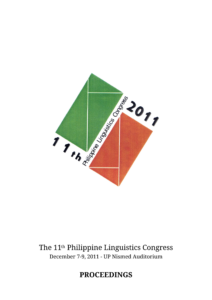 Date: 7-9 December 2011
Convener: Mary Ann G. Bacolod
List of Papers in the Proceedings
Linguistic insights into the history of Philippine script: graphonomic structure, sociolinguistic variation, and contact phenomena
Christopher Miller
Multiple motivations for Preposing in Philippine Languages
Michael Wilson I. Rosero
Language Maintenance of Shift: Determinants of Language Choice Among Batak Speakers in Puerto Princesa City
Teresita D. Tajolosa
The Acquisition of English Grammatical Morphemes of Multilingual University Freshmen
Eric E. Lebeco and Sharel S. Legaspi
The Emergent Tarlac Variety of Kapampangan in Tarlac City: A Descriptive Study
Anna Maria Soccorro Y. Coloma
Language and Resistance: Testimonios for Critical Language Pedagogy and Literacy
Noel Christian A. Moratilla
Transpormatibong Edukasyon sa Pagtuturo ng Maka-Filipinong Pananaliksik: Tungo sa Pagpapalakas ng Instruksyon at Programang Ekstensyon sa Unibersidad
Crizel Pascual Sicat
Uncovering Language Attitudes in Two Filipino Children's Stories Through Discourse Analysis
Perpi Alipon-Tiongson
Refining the Agent
Divine Angeli P. Endriga
When Shit is not Shitty: An Exploration of Meaning Dynamics in relation to Culture and Normative Practice
Bernardo Nicolas Caslib, Jr.
Ang "Di-Kristiyano" bilang "Tribo," "Infieles," "Moros" atbp.: Kultural na Pagsasalin bilang Lunan ng Elaborasyong Semantikal sa Kolonyal na Diskursong Etnograpiko
Mary Jane B. Rodriguez-Tatel
Babae, Pagkababae, at Kababaihan: Ang Pagtanggal ng Sapi (Isang Panimulang Feministang Pagbasa sa Wika at Panitikang Tagalog)
Moreal Nagarit Camba
A Preliminary Study of the Lexical, Morphological, and Syntactic Variation of the Sorsoganon Languages
Michael John A. Jamora
Comparative Analysis of Interrogative Structures in Pangasinan and Filipino
Francisco C. Rosario, Jr.
Pinoy-Phrased: A Study on Philippine Audiovisual Translation Shifts and Norms
Honeylet E. Dumoran
12th Philippine Linguistics Congress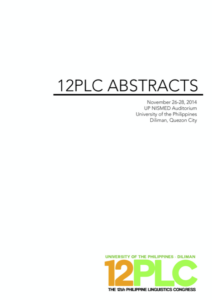 Date: 26-28 November 2014
Convener: Aldrin P. Lee
Plenary Lectures
Language for Communication: Language as Logical Inference
Edward A.F. Gibson
Typology, Language Acquisition, and Experimental Linguistics: The Case of Tagalog
William O'Grady
13th Philippine Linguistics Congress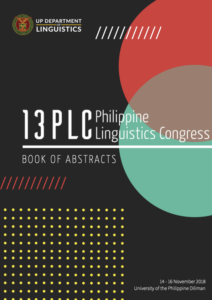 Date: 14-16 November 2018
Convener: Farah C. Cunanan
Plenary Lectures
Field linguistics in the Philippines and its methods
Tsunekazu Moriguchi
Reassessing the position of Isinay in the Central Cordilleran family
Lawrence A. Reid
The Pinoy Version New Testament: A phenomenon in linguistics
Anicia H. del Corro
14th Philippine Linguistics Congress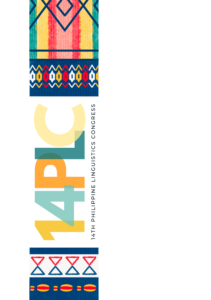 Date: 24-27 August 2021
Convener: Jem R. Javier
List of Presentations
Axis Relationships in the Philippines: When Traditional Subgrouping Falls Short (Plenary Lecture)
R. David Zorc
Counter-Babel: Reframing Linguistic Practices in Multilingual Philippines (Roundtable Discussion)
Jeconiah Louis Dreisbach, Maria Kristina Gallego, Diane Manzano, Vincent Christopher Santiago, Ruanni Tupas, and Louward Allen Zubiri
Rising to the Challenge of Teaching Foreign Languages during a Pandemic
Farah Cunanan, Kritsana Canilao, Kyung Min Bae, and Ria Rafael
SIL LEAD and Translation Services in the Pandemic
Roger Stone, Ryn Jean Fe Gonzales, Manuel Tamayao, and Maria Cecilia Osorio-Van Zante
Philippine Lexicography through the Ages
Honeylet Dumoran, Divine Angeli Endriga, Vincent Christopher Santiago, Noah Cruz, James Dominic Manrique, Jurekah Chene Abrigo, and Samantha Jade Sadural
Disaster Dialogues: Analyzing Multivocal Experiences of Disaster Narrated through Various Media
Michael Manahan, Farah Cunanan, Ria Rafael, Jay-Ar Igno, Jem Javier, and Mary Ann Bacolod